Seeds vs. wires for breast localization - latest data supports Magseed® adoption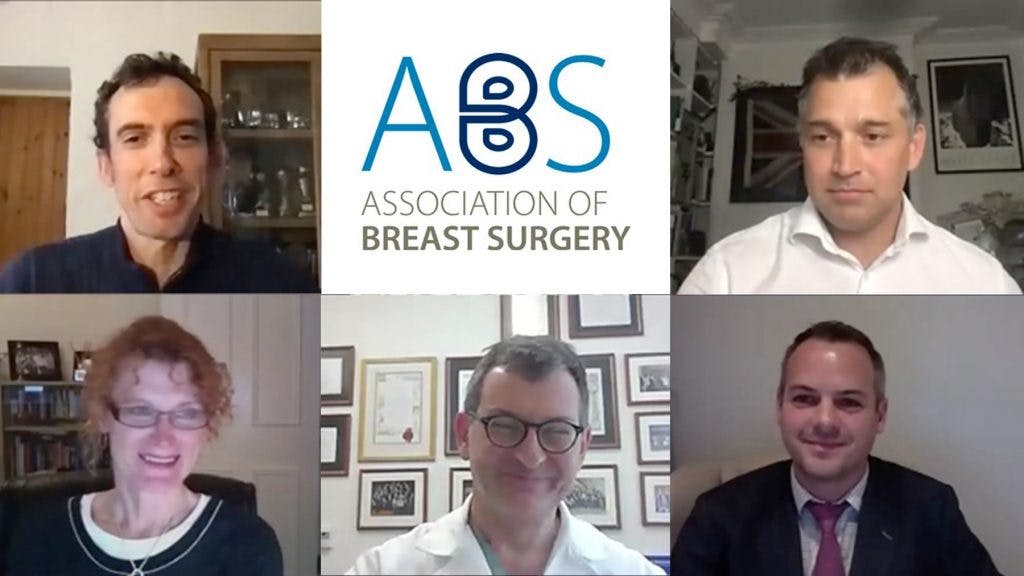 A recent Association of Breast Surgery (ABS) webinar featured experts discussing improved efficiencies with seed localization techniques over traditional wire guided surgery - notably with the Magseed® marker.
The speakers in this session involved a number of leading breast surgeons from the UK and further afield. These included Mr. James Harvey from Manchester Foundation Trust, Mr. Paul Thiruchelvam from Imperial College London and Professor Alastair Thompson, who joined from the Baylor College of Medicine in Houston, Texas.
They shared their experiences of wire drawbacks, such as scheduling limitations and the discomfort and breast damage it can cause to patients, before moving on to showcase their experiences and research for wire-free, seed localization solution
The latest findings from the iBRA-NET localization study
James Harvey shared the initial findings from the iBRA-NET study, a large multi-centre study, which has seen 35 breast units comparing the effectiveness of the Magseed® marker against the traditional wire.
Early analysis from the 2,110 patients involved shows an 'extremely high' Magseed® lesion localisation rate of 99.7%. The Magseed® also demonstrated a superior re-excision rate of 12% compared to 13.3% for the wire.
James finished by sharing the learnings from the study to date, including patient selection insights and insertion technique. Among the observations, many surgeons agreed the Magseed® offers significantly improved scheduling, and little training is required for radiologists applying the seed.
3,000 patient clinical data summary presented for Magseed®
Viewers also heard from Paul Thiruchelvam, who presented his clinical data summary from just under 3,000 Magseed® placements.
Looking at both tumour localization and targeted axillary dissection (TAD), Paul demonstrated how advancements in tumour localization solutions have led to the emergence of radiation-free technologies.
Moving on to Magseed®, he shared data from 12 published studies and 24 conference publications. These carried information recorded from 29 institutions in 12 countries – many of which can be read on our Magseed clinical data page.
Paul summarized that the Magseed® is easy to place, does not migrate and significantly improves both the patient and surgeon experience.
Why bigger doesn't always mean better in Texas
To end the session, Professor Alastair Thompson shared his experiences from his time working at leading institutions in Texas. Alastair first adopted Magseed® and Magtrace® at MD Anderson Center, before moving to Baylor College of Medicine, a facility that had been using SAVI Scout.
He realised that there were limitations to the SAVI technology, most notably the size and reliability of the reflector. During the discussion, Prof Thompson showed a side-by-side comparison of the three main technologies - Magseed®, SCOUT and LOCalizer.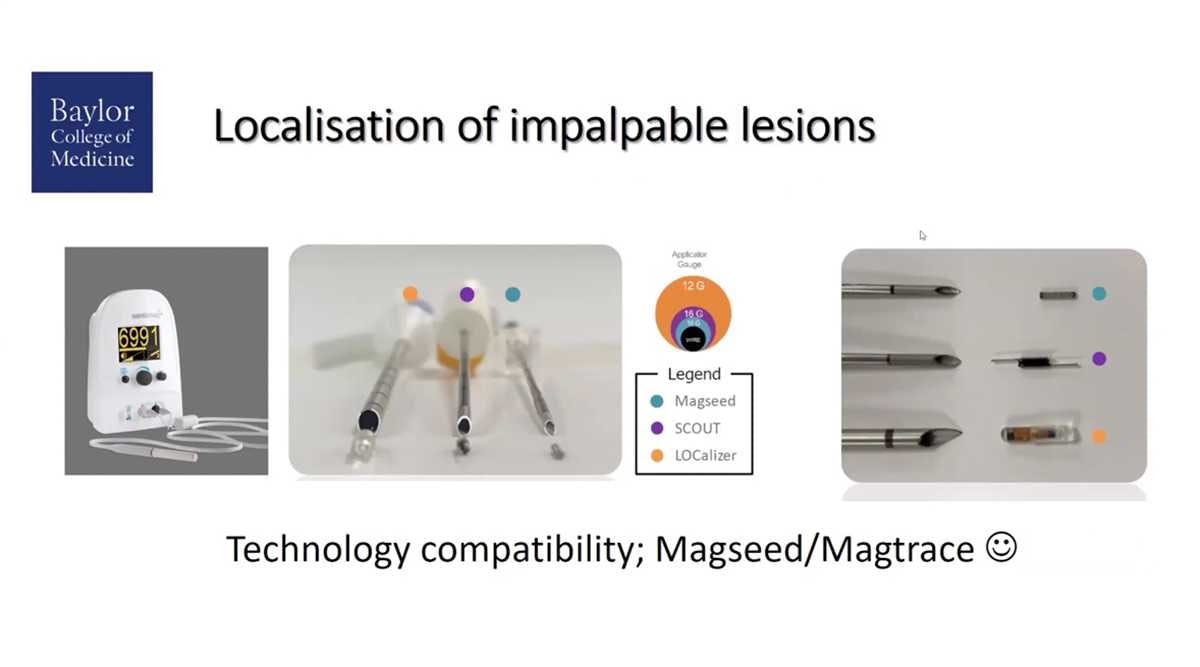 As shown above, the 18-gauge needle for the Magseed® marker offers benefits from its smaller size and is more patient-friendly than both LOCalizer's significantly larger 12-gauge needle seed and the SAVI scout.
Prof Thompson also commented on his experience of the SCOUT reflector becoming deactivated from electrocautery during the surgical procedure – a well documented issue also highlighted in Mr Thiruchelvam's talk. Thankfully, this is something that is not possible with Magseed®, which cannot be deactivated and is always detectable.
Baylor have since adopted Magseed® - as well as Magtrace® - which they're using for lesion localization, sentinel lymph node biopsy (SLNB) and targeted axillary dissection (TAD).
It is through TAD that Alastair and his team has seen significant benefits particularly. Baylor are now able to use both Magseed® and the Magtrace® lymphatic tracer in combination, using just the one system – the Sentimag® platform.
It was great to hear such positive feedback on our technologies - and how many pioneering surgeons are advocating for advancing from wire-guided localization to the new future of seed localization. Find out more about the Association of Breast Surgery's full webinar series here.
---