How to #EmbraceEquity within Breast Cancer – International Women's Day 2023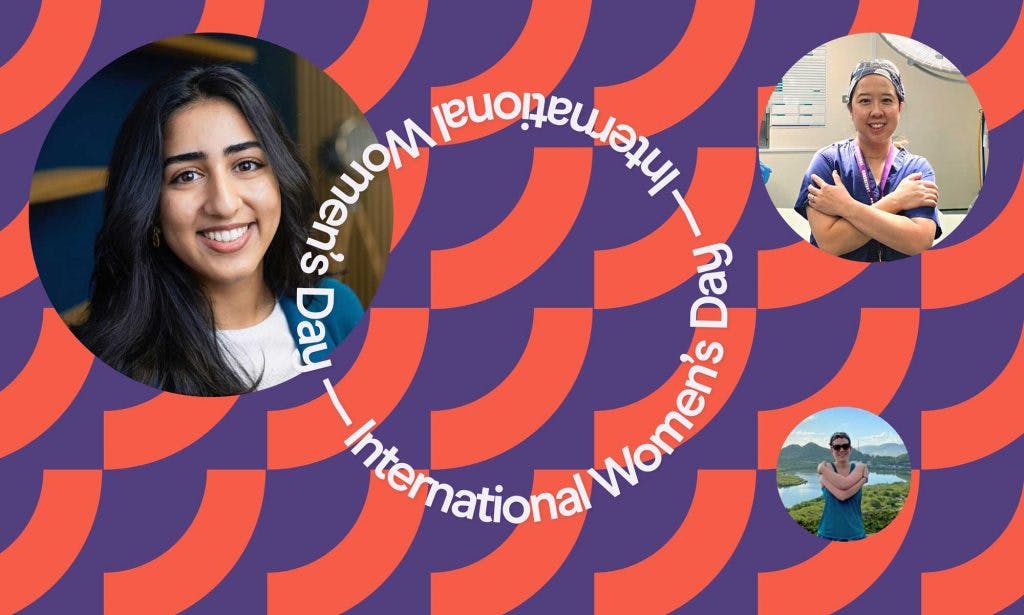 This year's International Women's Day is all about how to #EmbraceEquity, a campaign focused on true inclusion and belonging at the hand of equitable action.
As a company predominantly focused on women's health, with a vast network of women connected by breast cancer, we know first hand how important inclusion can be in shaping positive experiences. 
To mark this year's campaign, join us as we speak to three inspiring women pushing for improved equity in breast cancer treatment as they discuss female empowerment, making the most of opportunities and drawing on the inspiration of others:
Consultant Breast and Reconstructive Surgeon, Dr Fiona Tsang-Wright
Breast Cancer Patient, Amy Gilman 
One of Endomag's brightest young engineers, Ayra Ahmad

Dr Fiona Tsang-Wright:
Q. What does International Women's Day mean to you? 
IWD is an opportunity to highlight women's achievement around the globe. The campaign seeks to empower women to celebrate their accomplishments and reduce some of the inherent self-doubt and embarrassment that women can feel when successful. 
With the annual celebration of IWD, women can come forward and showcase the ordinary and the incredible things that they naturally do all the time, often without realising how truly amazing they are. 
I embrace IWD; this year's theme #EmbraceEquity highlights that only by positively embracing diversity and championing equity, can we achieve lifelong changes to society and humankind. 
Q. What advice would you give to your younger self, starting on your surgical career path?
The surgical life is a rewarding and challenging career, and it is a privilege to be able to learn the craft and earn the trust of our patients. There will be many conflicting pressures both professionally and personally.
My tip? Remember to put yourself first and have a good friend on 'speed-dial'. Do not underestimate the power of sharing and letting go, and do not feel that by doing so you are a lesser surgeon!
Q. How would you encourage more women to enter into the world of medicine? 
Women account for almost 70% of UK medical school entry, a figure which has steadily increased and this supports the wider view that medicine is a career for all. 
However, in 2022, only 14.7% of consultant surgeons were women; although there has been an increase in women entering medical school and surgical training, there continues to be a wide gap in the consultant body.
Whilst we should continue to encourage all to apply to medical school, we need to determine how we can encourage women to complete their surgical training and remain in the profession. This is not an easy task. The Royal College of Surgeons of England has demonstrated commitment to supporting women (and men) to train and work flexibly, by providing advisors, support from the Women in Surgery Forum, and the removal membership fees whilst on parental leave. 
However, even in this progressive environment, women still feel the 'imposter syndrome' and inherent bias. For example, women report that they feel a surgical life is incompatible with family life, that there are often challenges from patients and some staff, and that they are expected to do better than their male counterparts for the same tasks.
The challenge is to change the environment in which we work. Women will strive to continue their professional surgical career if they can see role models who have a life and are in positions to which they can aspire. 
The momentous shift to a safety culture cannot also be underestimated, with a 'what matters to you' philosophy combined with making personal connections, promoting civility, diversity of thinking and psychological safety being needed. This will make all the difference, both for women and our patients.
Q. Finally, are there any resources that you would share with your female patients to help them feel empowered during and after cancer treatment?
Any cancer diagnosis is difficult, and breast cancer is particularly challenging. I reassure my patients, from the moment that they come under my care, that the team and I will be there to provide support.
I explain that they will feel 'pushed and pulled' in all directions due to the constant stream of appointments, investigations and treatment, and that there will be a lot of information to process over a short period of time. However, this will be manageable and will seem a distant past once completed.
I also explain that throughout the treatment, and beyond, that they need to put themselves first. Of paramount importance is the need to look after their emotional and physical wellbeing, and accept the support of family and friends. A clinical psychologist and support group can also provide support. Once a patient has an acceptance of the diagnosis, they tend to feel more empowered and feel able to drive their own pathway, which in turn supports a more positive outcome.

Amy Gilman:
Q. How important did you find patient communities and wider support during your Breast Cancer journey? 
Support that went beyond my medical team was a lifeline during my Breast Cancer journey. It's widely understood that physical health is impacted during active treatment for cancer, yet the impact on mental and emotional health is just as prevalent.
Patient communities and my own support network were key to helping me manage the impact on my wider health, much of which I was hugely unprepared for. Having always been fiercely emotionally independent, I lost a huge amount of confidence and became very withdrawn at times because it was very hard to accept how reliant I'd become on others during active treatment. 
Without charity support groups, social media communities and my own family and friends, I would have struggled a lot more than I did. 
Q. Have any women inspired you throughout your life and/or your BC journey?
My Grandmother was definitely a huge figure of inspiration for me throughout her life. She had a very hard life growing up in Nazi occupied France during World War II; but she never gave up. Her grit was palpable and I drew upon what I remembered of her spirit many times to get me through the darker days of my Breast Cancer journey.
I also searched for younger women going through similar experiences while I was being treated. The frankness and humour with which they spoke about their journey helped me to feel stronger, in particular Nicky Newman, a secondary Breast Cancer fighter in her 30s. 
Q. What has helped to empower you as a woman post Breast Cancer treatment?  
I have been out of active treatment for just over 3 months now and I am still discovering the tools and people who are driving my post cancer revival. 
Charities and their support networks have really come into their own here, in particular Shine Cancer Support's Break Out Programme, which I just finished 3 days ago. Shine offers tailored support to young adults in their 20s, 30s and 40s experiencing cancer. 
My very best girlfriends have also been a constant source of strength for me post treatment, celebrating how far I've come and reminding me that I did all this to have a great life so I'd better get out there and enjoy it! I'm in Antigua with my sister and best mate as I write this, doing just that! 
Q. Do you have any tips to help other women monitor their breast health? 
I found my cancer through self examination. So I am a huge advocate of getting to know your body, being observant to any changes and acting quickly. I encourage all women to check their breasts once a month and follow the guidance that teaches you how to do so thoroughly.

Ayra Ahmad
Q. Tell us about your role at Endomag and your experience of working in MedTech? 
I work in the Implantables team (cue superhero music), Endomag's R&D team focused on the development and manufacture of our latest implantable technologies. 
As a Year in Industry Student, I have the opportunity to learn about the MedTech industry while supporting the real-time research that will shape its future. 
Q. Are there any women in particular that you would like to celebrate this International Women's Day? 
I find inspiration in brilliant women like Kath Buck, a reliable, compassionate colleague whose advice has helped mould my own professional experiences, and my mother and her sisters who recognise the value in education and raise their daughters to be confident, critical thinkers. 
I am privileged to come from a generation of women who have shattered glass-ceilings, in the workplace and in the context of wider society. They act as a constant reminder that being a successful professional and being a woman are not exclusive! 
Q. How important is it that more women are given the opportunities to pursue careers in engineering? And do you think Endomag supports this well?
It's vital for women to be encouraged to pursue careers in STEM, specifically when it comes to senior roles. Societal pressures often discourage women from aspiring to these positions and this poor representation in turn discourages a new generation of women. Representation matters. It shapes our confidence in our own capabilities and capacity to be innovators in industry. 
Having an emphasis on talent and consideration towards diversity across the board, Endomag creates a supportive environment for its employees. When I joined the company, I had the privilege of meeting Anam. She's a fantastic project leader in the Implantables team and shares a similar background to my own. As a young brown woman in STEM, working with Anam has motivated me to pursue project management and leadership roles in the future. 
Q. What advice would you give to young women just starting out in the world of STEM?
You don't have to repress stereotypically feminine traits to be a successful woman and enjoy a rewarding career in STEM.  You can be a team player and a leader, a supportive colleague and a trail blazer, kind-hearted and a critical thinker. The best leaders are a blend.
→ Get involved with International Women's Day  
→ Top tips and tricks for performing a thorough breast self-exam 
---