Forbes Top Tech Podcaster speaks with our CEO Dr Eric Mayes
Dr Eric Mayes joined innovation expert Scott Amyx to discuss his career in magnetics, developing a better standard of breast cancer care and the lessons learnt along the way.
Speaking on the 'Innovating with Scott Amyx Show' – named one of Forbes' essential tech podcasts – Eric began by sharing how a background working for companies, including Nanomagnetics and Cambridge Display Technologies, had driven his passion for material sciences, and magnetic solutions in particular.
"Those experiences prepared me in a way that when I was approached to be the CEO at Endomag, [in 2010] I was really excited to go from a stable job at a multinational group to being the sole employee at a company and industry I didn't know much about!"
Understanding the needs of breast care teams
Upon joining the team at Endomag, Eric and the company founders set out exploring the main challenges facing breast surgeons in their every day practices. They spoke with surgeons and radiologists across the UK and US to understand where the care pathway could be improved.
Initially they were told of the issues with staging breast cancer in the axilla, with the outdated method of axillary lymph node dissection still commonplace just over ten years ago – a method which involved removing a vastly excessive amount of lymph nodes to initially analyse if the cancer has spread.
New techniques enabling better outcomes
Fortunately, emerging research had identified a less invasive procedure – sentinel lymph node biopsy – where only the most likely nodes to contain a migrating cancer would be removed and analysed.
This was most commonly performed with the use of Technetium-99 and blue dye, however both of these had their drawbacks.
"You had to do the injection pretty closely timed to surgery, otherwise the signal in the nodes you're looking for with a geiger counter disappears. Magtrace solves a number of the problems – it gets rid of nuclear medicine, decreases patient radioactive exposure and decouples when the injection and surgery happen."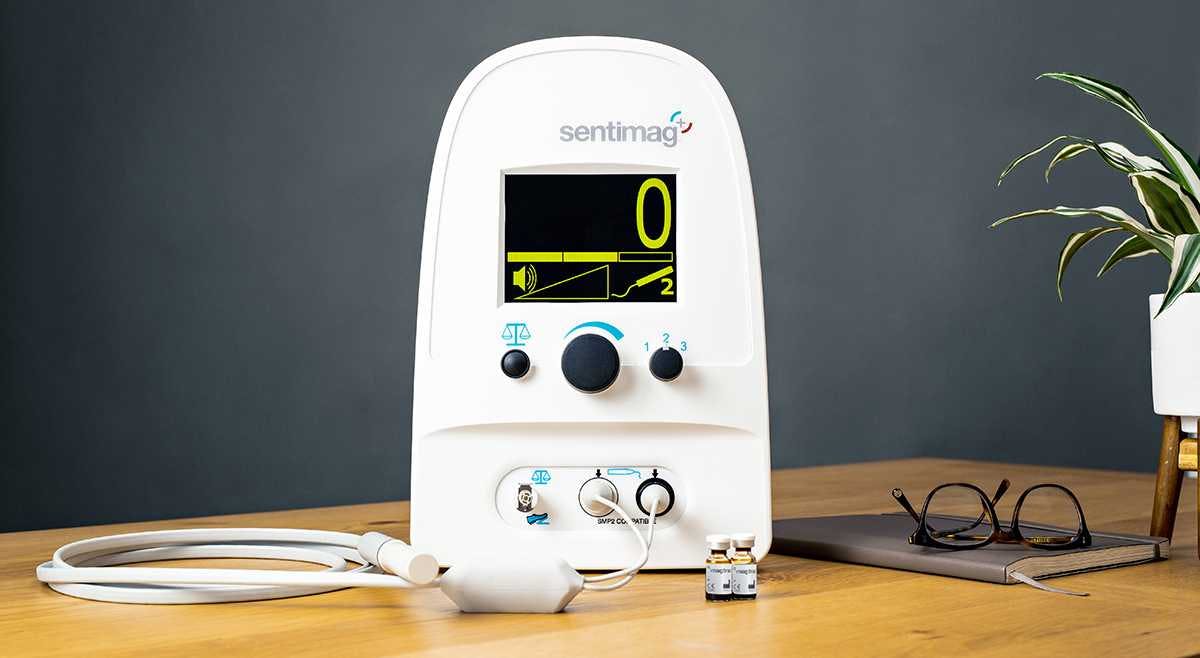 With adoption of Magtrace® rapidly growing around the world, Eric explained how the ever-growing Endomag team were keen to explore other ways in which they could improve the options available to patients.
So they returned to operating rooms to hear more from surgeons and radiologists and found that there was a common theme around the removal of tumors.
"They said 'we're still using wires - can't you make something better that's magnetic?"Eric Mayes
The guidewire technique for removing tumors had been in existence for over 50 years and involved placing a hook in the site of the cancer, attached to a wire that protruded from the skin. Drawbacks to this include potential risk of infection, issues with patient scheduling and wire migration from the cancer site amongst many others.
In comparison, Eric explained how Magseed® had been created to achieve more accurate placement, no migration and flexibility in when the seed could be placed for breast care teams. Introduced in 2016, over 70,000 women worldwide have now received a better standard of breast cancer care with Magseed®.
Lessons learnt from the growth of Endomag
Finally, Eric was asked about the key learnings he'd experienced throughout his time at the helm of Endomag. Among many major challenges, he told Scott how the complexities of bringing a medical device to market had taken him by surprise but provided him with a great understanding and respect for the regulatory process.
He also explained how the collaboration with industry had been something he had not encountered previously but had played a pivotal role in making products that serve the needs of both physicians and their patients.
"It's about understanding what the customers need and then building the technology to address that problem."
So what would Eric's advice be to other leaders looking to grow their companies and continue to remain relevant in a fast-changing world?
"I've learnt that there's value in not being the smartest person in the room, but being the person who asks the right questions."Eric Mayes
---