Meet Scott and his team, our commercial support in North America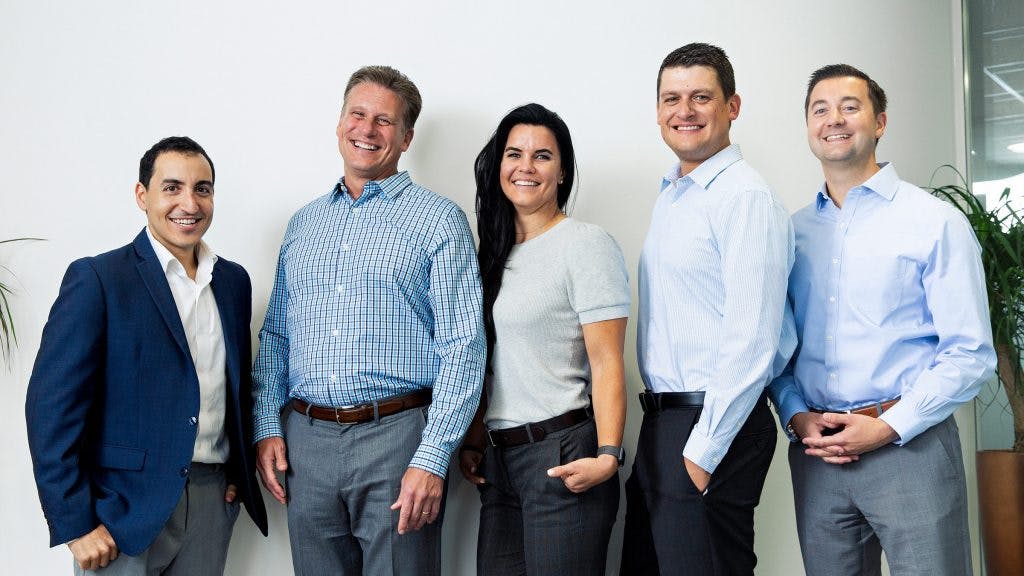 In October 2019, we expanded our Northern American commercial team.
This was to help support our ambition to create a better standard of cancer care around the world, and continue to drive the rapid expansion of the Sentimag® platform.
The team is led by Scott Van Sciever as Director of Sales, with four Strategic Account Managers to support our exclusive North American distribution partner, Mammotome.
The photo above shows: Patrick, Scott, Kat, Jeremy and Wess (from L-R).
Scott previously served as Midwest and Ohio Valley Regional Sales Director at Invuity, Inc., where he built and led a 12-person sales team that delivering award-winning results for the organisation. He brings considerable experience in the breast surgery sector, having previously worked with the Eikon retractor range and the Hidden Scar™ program.
Many of the world's leading physicians and hospitals already use Endomag's technology, which help women with breast cancer avoid surgery when possible, providing a better patient experience. The Sentimag® system has been used in over 90,000 breast cancer procedures at over 450 hospitals in more than 35 countries.
Together with Scott, we have assembled a strong team of experienced experts to support Mammotome and our key customers in North America. We dedicate a lot of time and effort to support Mammotome and our growing network of physicians and advocates with the ultimate ambition to create a better standard of cancer care around the world.
Further information
Mammotome is Endomag's exclusive distribution partner in North America. Headquartered in Cincinnati, OH, the Mammotome brand is sold in over 50 different countries throughout the world.
With employees located in 11 countries, it is a global organization dedicated to being the trusted leader in breast cancer diagnostics and surgical solutions. Mammotome is committed to advancing technology for the early detection of breast cancer, providing support and education for clinicians worldwide, and offering breast care information for patients.
- Visit www.mammotome.com
- Contact Mammotome
- Read more about Endomag and Mammotome's distribution agreement
---