Cycling 3000 miles across America in just 9 days for breast cancer research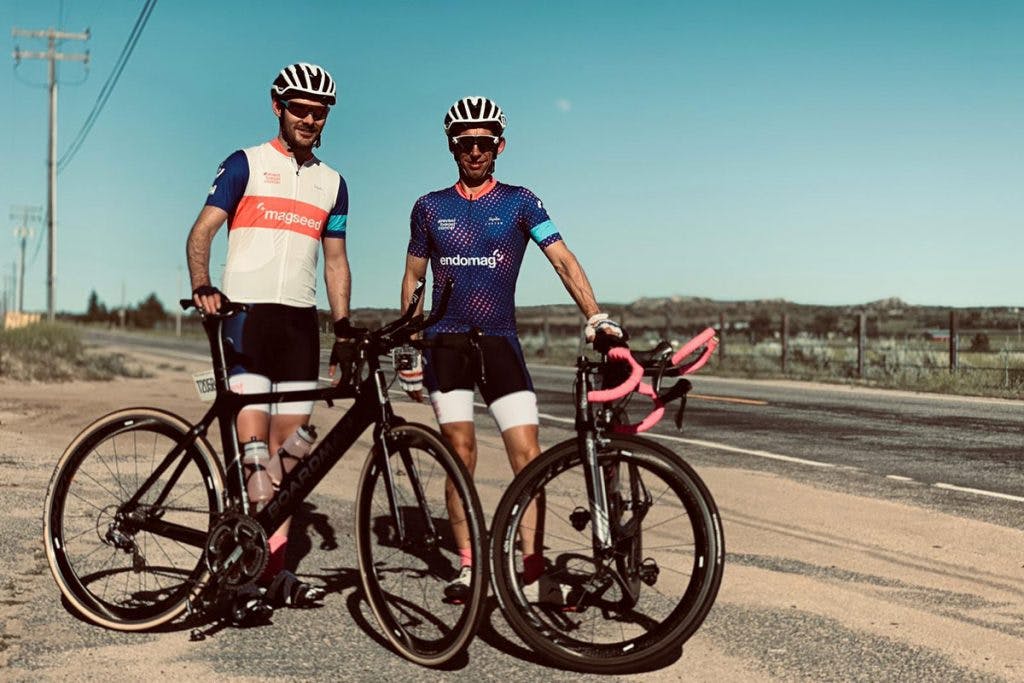 It's not every day that you hear about a 3000 mile cycling challenge for charity. Here we follow the story of how far these two amateur cyclists would go in the name of fundraising for research into breast cancer prevention.
Who would take on such a challenge?
The first of this ambitious cycling duo was Dr James Harvey, an oncoplastic breast surgeon based in Manchester, UK. Over the past few years, we've come to know James and we knew he was someone with a sense of drive and ambition.
James is someone who has always pushed to give his patients the best care he possibly could, but we didn't know how driven he would turn out to be.
Joining James was his friend and Charity Fundraiser, Tom Allen. Together they told us that they wanted to push themselves further than they ever had done before by entering the 2019 Race Across America.
It may have been a mammoth challenge in front of them, but their reason for wanting to do it resonated with us.
The challenge would see them cross 12 states, two mountain ranges, deserts, plains, and over 3000 miles from start to finish. They hoped to raise over £125,000 ($150,000) for the breast cancer charity: Prevent Breast Cancer.
The challenge
Race Across America, known as RAAM, is a yearly challenge and one that has the moniker of 'toughest bike race in the world'. It spans from San Jose, CA on the West Coast to Annapolis, MD on the Chesapeake Bay in the East.
The race is typically completed in teams and is ruthless, many teams don't make it to the finish. As you cycle through mountains and deserts, you have to reach each checkpoint within the time limit, or you're cut out of the race.
As 2019 began, their training stepped up a gear, evidenced by taking part in a gruelling 48-hour non-stop cycle race. To make sure they would be capable of the task ahead, they both had their health tested at the Manchester Institute of Health & Performance centre, and made sure that their bikes were professionally set-up, taking advice from professionals based at the UK's National Cycling Centre in Manchester.
All the while James managed to fit this into his professional life as a very busy breast surgeon in Manchester.
Fast forward to June of 2019 and the start of the RAAM challenge. They found themselves and their support team in San Jose and ready to begin.
As they began to rack up the miles, we checked their live tracker from the office as they cycled through scorching desert to the snowy Rockies. It looked spectacular.
A turn for the worse
It was a few days in and we heard bad news from the support crew. Tom had fallen ill. He had tried to cycle through the pain but needed rest. This left James, with already a thousand miles of pedalling, to power on, through more snow and mountains.
A day or so later, Tom re-joined the race, still recuperating from his illness, but it wasn't long until thunder struck.
Late one night, Tom was cycling through a thunderstorm and he found himself dangerously close to a bolt of lightning which hit a nearby power station causing it to explode. The team ushered Tom to safety inside the support vehicle.
After such a terrifying experience, they decided that it was best to end their challenge. And we don't blame them.
Despite not quite making it to the 3000 mile endpoint, they clocked well over 2000 miles cycled in just a few short days all while raising over £100,000 for Prevent Breast Cancer.
What an incredible feat.
Re-live their journey
James and Tom kept a diary of the challenge over at www.raceacrossamericachallenge.com
The team also made a documentary film, here's a short trailer for the full 45-minute epic (available on YouTube).
---