Holly's mastectomy and DCIS surgery experience
Holly's diagnosis
Holly Miller was diagnosed with early-stage breast cancer back in April 2021 following a routine mammogram. Imaging and biopsy both identified suspicious DCIS in her right breast.
Exploring treatment options
In speaking to her surgeon, Shawna Willey, MD, she discovered the 'delayed' sentinel lymph node biopsy, a procedure currently indicated for use in patients undergoing mastectomy in the US only.
"Dr Willey was great in telling me about some of the latest procedures, including a new procedure [delayed SLNB] with MagtraceHolly Miller
The procedure
Holly underwent a mastectomy on her right breast and full reconstruction, with the Magtrace® lymphatic tracer injected in the OR ahead of surgery.
Unfortunately, the results from pathology showed that she was in the roughly 20% minority of patients with invasive DCIS, and further surgery would be required. 
Holly was just one of three patients from Dr Willey's first 40 using Magtrace to have to return to the operating room, but it was explained that the procedure was straightforward.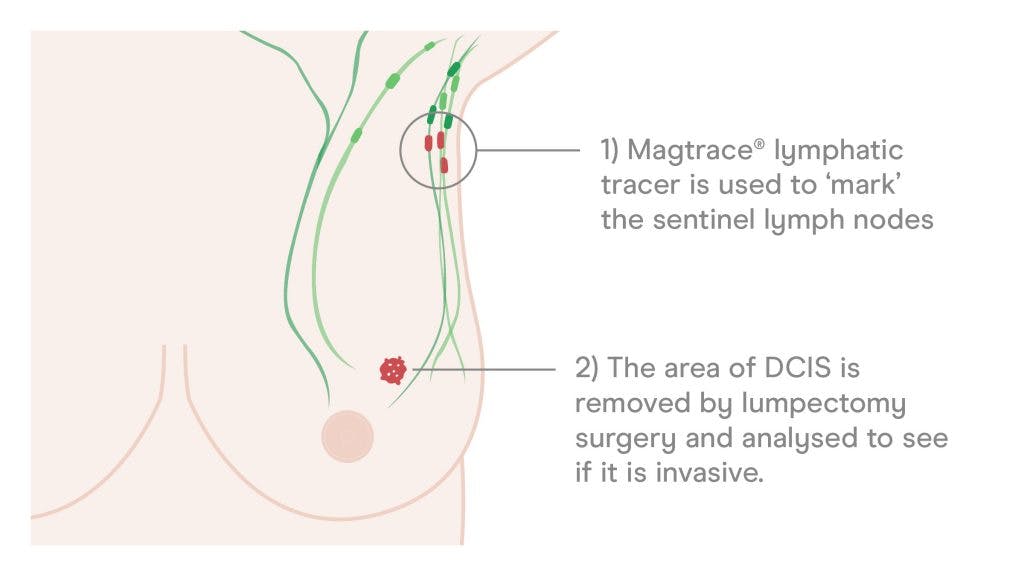 The results
Fortunately for Holly, the removed lymph nodes were clear of cancer, meaning the cancer had not spread to the underarm.
Since her procedure Holly has been able to get back to her usual activities and is feeling like her self again.
I have an active life and I'm back swimming and playing tennis and pickleball with my daughter. I'm so relieved the cancer is gone and I was able to beat it.Holly Miller
---