Resources
Frequently asked questions
Magtrace® is a uniquely designed non-radioactive liquid tracer used to map the potential spread of cancer to the lymphatic drainage to the axilla in sentinel lymph node biopsy procedures. It liquid is made up of tiny particles of iron oxide, coated in sugar and suspended in saline.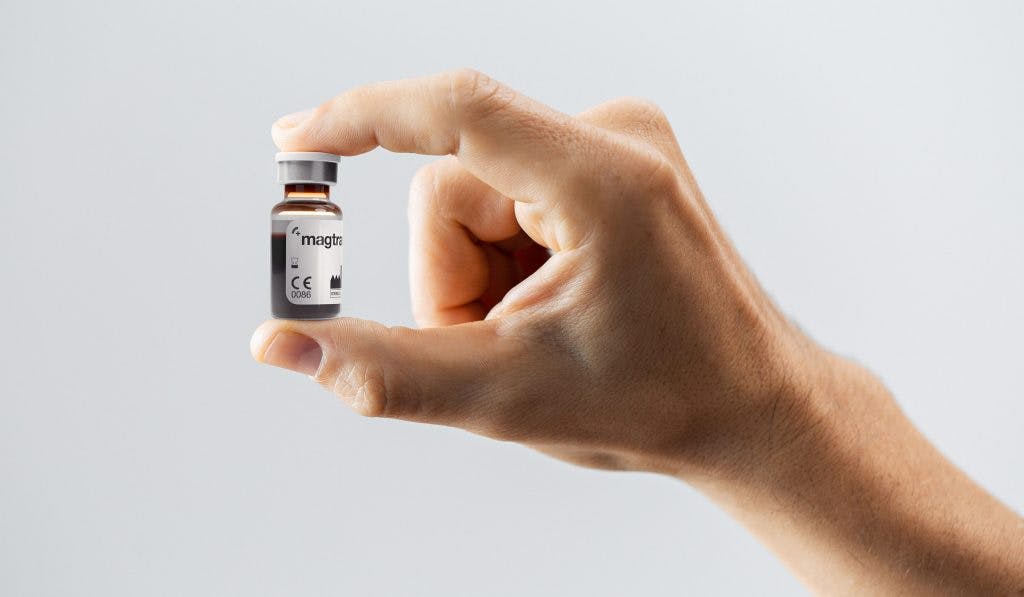 Magtrace® is a lymphatic tracer that visually marks the sentinel lymph nodes. It is injected into the breast ahead of surgery, where it will travels through the lymphatic system to the Sentinel Lymph Nodes in the axilla. It will then provide a signal that is detectable using the Sentimag® probe, to help remove the target nodes during surgery.
No. Magtrace is the world's first non-radioactive tracer. This not only facilitates the eradication of radioactive products from the OR, but provides psychological benefits for the patient.
Magtrace® can be administered by subcutaneous injection into interstitial tissue, either in clinic days or weeks ahead of surgery, or in the operating room. 
Subareolar subcutaneous injection is recommended as:
It limits discoloration (as nipple tissue is darker anyway)
Pinching/lifting up the nipple induces a kind of negative pressure resp. surge
Clinical data has been gathered with this injection site on hundreds of patients
Tracer travels more rapidly to the nodes from sub-areolar injection
If injecting in the OR, follow with 5 minutes of vigorous massage at the injection site. Surgeons should then wait at least 20 minutes before attempting transcutaneous measurement of the axilla.
Magtrace® lymphatic tracer offers unrivalled scheduling flexibility. It can be injected in clinic weeks before surgery or under anaesthesia in the operating room for simple mastectomy procedures.
Vigorous tissue-massage is advised if Magtrace is administered shortly before surgery (20 minutes) and/or the breast is large, to ensure adequate uptake in the lymph nodes before surgery begins.
One of the benefits of Magtrace® is that it acts as a dual tracer. As well as providing audio feedback to help intuitively finding the sentinel nodes with the Sentimag® probe, Magtrace also discolours the node a brownish colour, offering visual backup.
Magtrace® is a dual tracer, which means that it provides both audio (through the magnetic signal) and visual confirmation (staining the node) as you get closer to your target tissue. 
Blue dye is only capable of providing a visual signal, which means it can be more complicated to identify initially, and skin staining has been shown to be more severe in clinical studies. Blue dye can also only be injected on the day of surgery, whereas Magtrace can be injected weeks ahead of surgery. 
Unlike blue dye tracers, which have in some studies reported cases of anaphylaxis in up to 4% of patients, no significant adverse effects have been recorded for the Magtrace® lymphatic tracer.
For some patients, the Magtrace® lymphatic tracer leaves a brown 'bruise-like' colouration, but studies have shown that in the majority of cases this will fades over time. 
One of the benefits of injecting Magtrace peritumorally is that it reduces the likelihood of staining due to the deeper injection, and significant removal of the tracer when the tumor is excised.
Find out more about staining on our Magtrace clinical data page.
Yes. Several centres now use these products in combination. It is important to note that currently the Sentimag® probe does not distinguish between the signal from a Magseed® marker and the Magtrace® lymphatic tracer.
It is sensible to separate the injection site from the area you wish to sense the Magseed® marker transcutaneously. A distance of 2-3 cm will ensure a separate signal for the Magseed marker to be attained.
The price of the Magtrace® lymphatic tracer is differs from country to country. For more information click here to get in touch with our team of experts.
Outside of the cost of Magtrace, there are many assessments of node localisation that have shown significant cost savings for hospitals. This should also be considered alongside the price of the tracer.
If you've not found the answer you are looking for, please get in touch with our team. We'll be happy to help.