Targeted axillary dissection with the Magseed® marker
Advanced Techniques: Targeted axillary dissection (TAD)
With neoadjuvant chemotherapy (NAC) routinely used to treat women with breast cancer, the ability to clip or mark lymph nodes with a reliable marker at the time of biopsy is crucial.
Improving the accuracy of axillary staging
In recent years, the understanding of staging breast cancer with axillary lymph node procedures has developed rapidly. With over 60,000 women diagnosed with axillary metastasis each year, providing the right level of care is paramount.
As recently as a few years ago, a complete axillary lymph node dissection (ALND) – removing roughly 30 lymph nodes – was the standard of care. However, this can lead to life-altering consequences such as lymphedema.
Evolving from ALND, the sentinel lymph node biopsy (SLNB) technique has been less-invasive, removing only a small number of targeted lymph nodes. Yet this procedure can still result in a false negative rate (FNR) of 10-15%, leaving behind residual cancer.
Now, with the increased use of neoadjuvant chemotherapy (NAC) to attempt to shrink tumors, there is an opportunity to reduce the number of women who require invasive axillary surgery.
Chemotherapy before surgery helps - but more can be done
Although NAC offers many benefits for patients, it does bring some complications that need to be overcome to accurately determine the right treatment. For 'Node Positive' patients (cN1) who undergo NAC, evidence suggests the SLNB staging procedure alone may not be accurate enough after treatment.
TAD can improve the staging accuracy of node-positive patients
Targeted Axillary Dissection (TAD) is a relatively new technique that involves localizing and removing the previously positive node in addition to the sentinel lymph nodes. This can improve the accuracy of the staging procedure to a level where in some cases, false negative rates have been reported as lower than 2% (Caudle et al, 2016).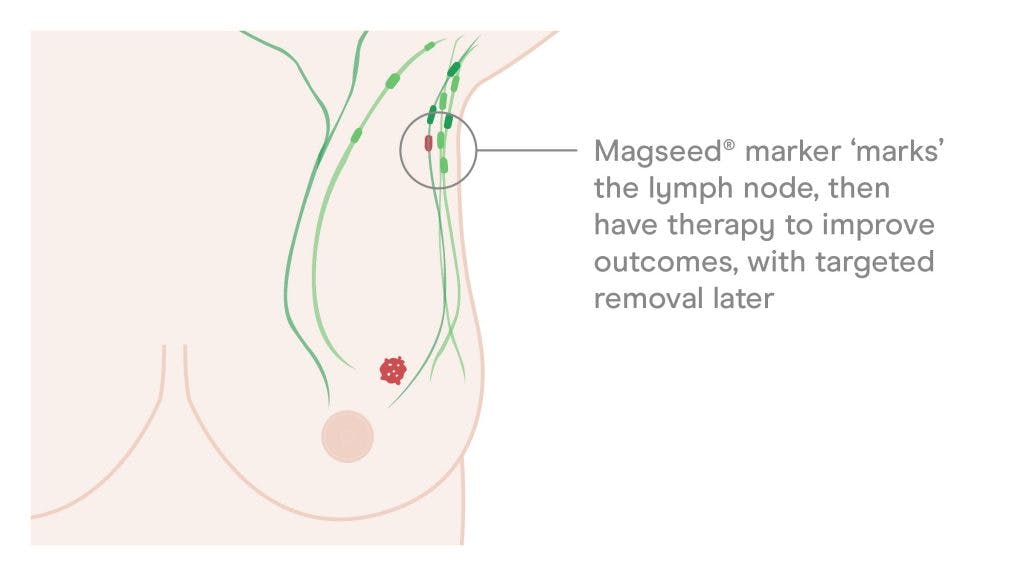 Why is Magseed® ideal for TAD?
1. It's small enough to place in lymph nodes
The seed is smaller than a grain of rice and is inserted using an 18-gauge needle. Placing the seed is fast, simple and accurate.
2. It's simple to find
A node marked with Magseed® is easy to identify during surgery, resulting in increased accuracy for the staging procedure.
3. It helps avoid extensive axillary surgery
ALND procedures are invasive and carry a high risk of lymphedema, pain and other complications. TAD with Magseed® can help to avoid these problems for patients and spare them unnecessary surgery.
The world's most used non-radioactive seed
Across six continents, physicians are using Magseed® to improve the standard of breast cancer care.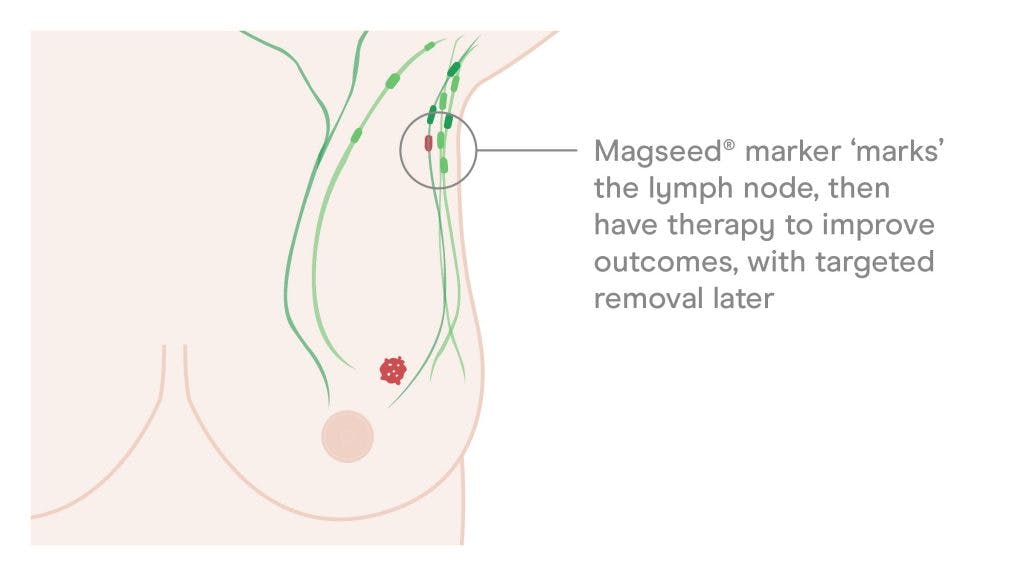 Proven for TAD across multiple clinical trials
Simons et al (2021) demonstrated the many significant benefits of using Magseed® for Targeted Axillary Dissection.
** This prospective trial demonstrated that magnetic seeds can be safely and effectively used to locate and remove clipped nodes from clinically node-positive patients undergoing TAD after completion of chemotherapy.
Get started with your free Sentimag® trial
Give your patients a better standard of breast cancer surgery without the need for wires and radioactivity.
→ Set up your no cost, no commitment evaluation today.
Evaluate Sentimag® with any of our markers
Join over 800 physicians
No commitment, no fees