A 'game-changer' for breast surgery: Southern Maine Health Care share their first experiences with Magtrace®
In the latest of our 'In conversation with…' series, featuring breast physicians from across the world, we caught up with Southern Maine Health Care's Breast Program Director, Cynthia Chao, MD to discuss her first surgery using the Magtrace® lymphatic tracer.
Cynthia is a long-time user of the Magseed® marker and her team recently adopted the Magtrace® lymphatic tracer, having previously used a combination of the technetium radioactive isotope and blue dye.
For their first attempt at using Magtrace®, Cynthia and her team chose a difficult case. Her patient had been diagnosed with a triple negative breast cancer, previously received neoadjuvant chemotherapy and had a positive node clipped with a Magseed®.
Despite these challenges, Cynthia told us how her first case had seen Magtrace® drastically outperform the standard of care and most importantly, saved the patient an axillary lymph node dissection.
She also explained why her patients are benefitting from the switch and how using Magtrace® for the delayed sentinel lymph node biopsy technique could be a "game=changer".
First case report: Sentinel node mapping after Neoadjuvant Chemotherapy
"She had triple negative breast cancer and started with her chemo. She had a great response based on her imaging to the chemotherapy. It looked like the nodes had pretty much gotten back to normal. I was very excited to try to do the sentinel node (biopsy) technique with her because then it was possible she wouldn't need a dissection."
For her first patient, Cynthia explained how her team injected both the Magtrace® lymphatic tracer alongside their more familiar pairing of blue dye and technetium. Additionally, one pre-identified positive node was clipped with a Magseed® marker.
Magtrace® outperforms standard of care
Once both the Magtrace® and dual tracer had been given enough time to migrate to the lymph nodes, Cynthia began the surgery, identifying and removing four nodes for analysis. On closer inspection, this is what she found: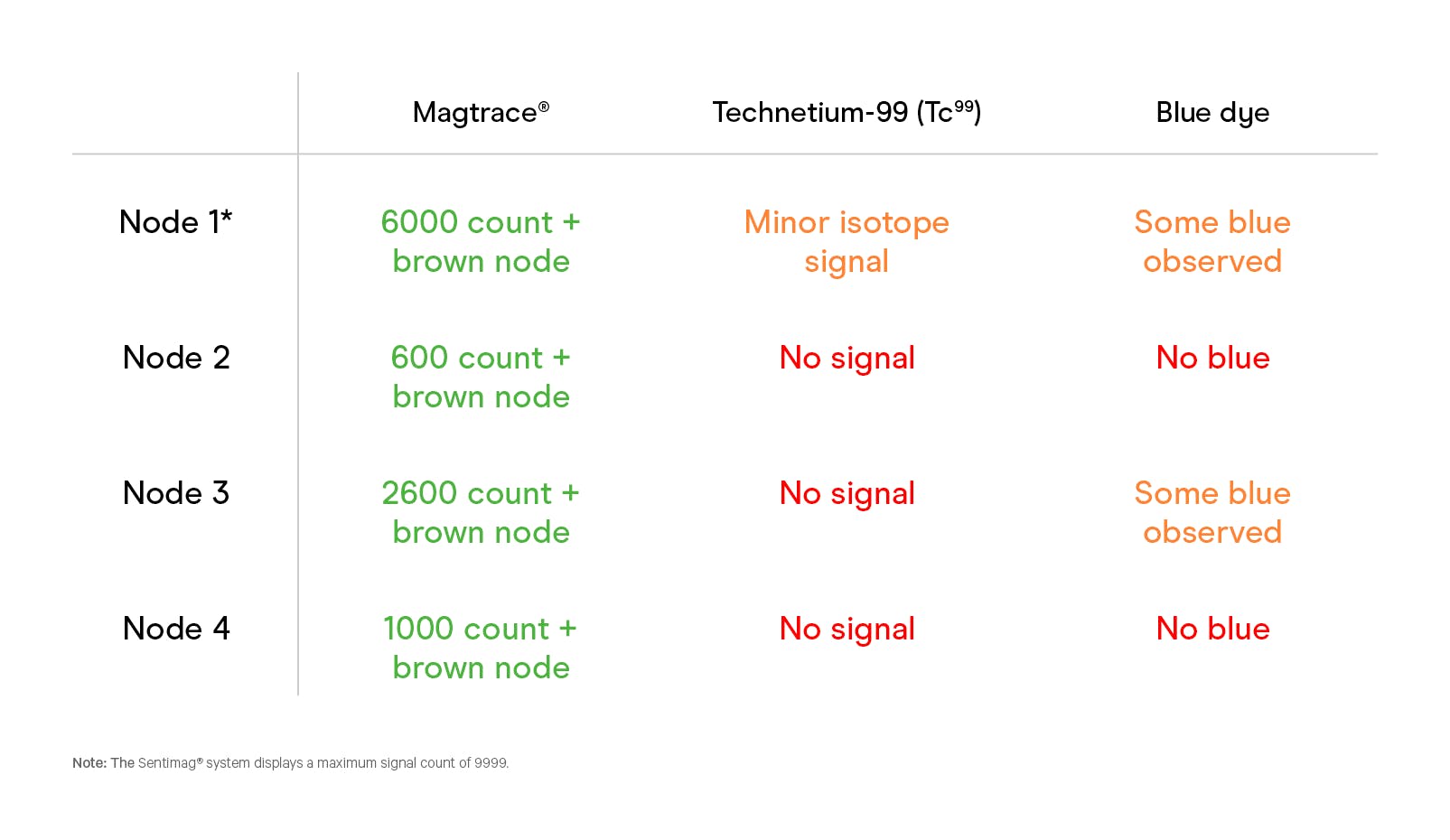 Cynthia commented that she would only have found two of the four nodes with a dual-tracer. It was only because Magtrace was used on this patient that she was able to spare the patient an axillary dissection, avoiding the risk of lymphedema further down the line.
"If I'd just used the dual tracer, the patient would have needed a dissection"Cynthia Chao, MD - Southern Maine Health Care Medical Center
An injection less painful than a splinter
One of the benefits of Magtrace® is that it can be injected on the operating table, meaning the patient will not feel the injection. However, it can also be injected in the office or radiology suite many days or weeks ahead of surgery to suit the patient and hospitals schedule.
For her first and subsequent patients, Cynthia chose to inject ahead of surgery. Not only did this spare the patient an additional visit, but we were also told that even in this setting, the Magtrace® injection was causing very little pain.
"The patient was just like, "Are we done?" She also had a little splinter in her finger, and she said that hurt more!"
This is in stark contrast to the significant discomfort that technetium can cause patients. This is thought to be due to the tonicity of both treatments, with technetium being a hypertonic solution and Magtrace® hypotonic.
Delayed SLNB - the new mapping technique to "change how everybody thinks"
Looking beyond that first patient, Cindy shared her excitement at the future opportunities available to her team, having now adopted Magtrace®.
One of these opportunities is in the form of delayed sentinel lymph node biopsy (dSLNB). This is an advanced technique where Magtrace® is injected up to two weeks ahead of surgery, allowing physicians the opportunity to surgically remove DCIS and carefully analyse the specimen, before deciding if the sentinel biopsy is actually required.
"If we can do their surgery and hold off on the nodes, and only do it for people who really need it... that's a game changer"Cynthia Chao, MD - Southern Maine Health Care Medical Center
Enjoyed this latest episode? Watch more interviews from our series here.
---