Watch iBreastBook's 'Managing the Axilla: Less is More' Webinar On-Demand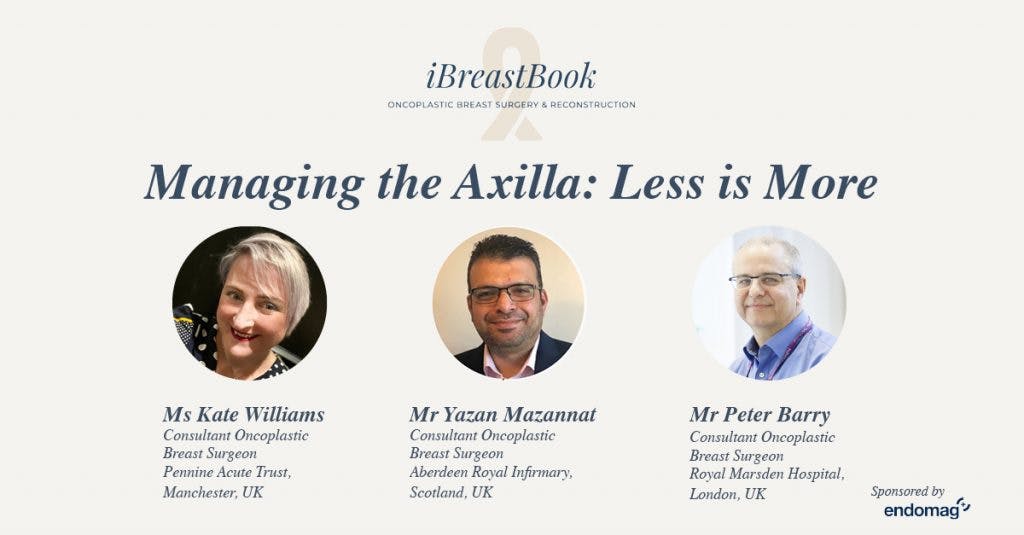 When it comes to managing the axilla for breast cancer patients, has the old adage 'less is more' ever been so relevant?
This topic was explored at a recent international webinar hosted by the iBreastBook group, with over 600 physicians from over 90 countries in attendance.
In the session, leading surgeons from institutions including the Royal Marsden, North Manchester General and University Hospitals discussed how Magtrace® has enhanced cancer staging during the pandemic, and shared the latest data from advanced techniques such as Targeted Axillary Dissection (TAD) with Magseed®.
If you missed them first time around, you can now watch the keynote presentations below or through the iBreastBook YouTube channel:
Total Magnetic Conversion – Future Proofing in Unprecedented Times
Ms Kate Williams, Consultant Oncoplastic Breast Surgeon at North Manchester General Hospital, UK
In this talk, Ms Williams explains why they chose to go with a total magnetic solution for axillary staging and tumour localisation, how they safely implemented it in North Manchester Hospital during the pandemic and why this is now offering them greater flexibility when treating their patients.
Targeted Axillary Dissection - Magnetic Node Marking at The Royal Marsden
Mr Peter Barry, Consultant Oncoplastic Breast Surgeon at The Royal Marsden Hospital NHS Trust, London, UK
At London's Royal Marsden, they've been performing Targeted Axillary Dissection (TAD) with Magseed® for more accurate cancer staging for a number of years.
In this talk, Mr Barry discussed how they perform the procedure, with the help of a video demonstration. He also showcased their findings so far, supporting the use of Magseed® for this advanced technique.
One Platform: Four Techniques - the clinical argument for Sentimag®
Mathew Stephens, Endomag CMO
To round off the session, we shared this short video demonstrating the versatility of our Sentimag® localization platform in being the only platform on the market to offer both cancer localization and staging.
---