Pioneering Surgical Guidance System from Endomag Wins Institute of Physics' Business Innovation Award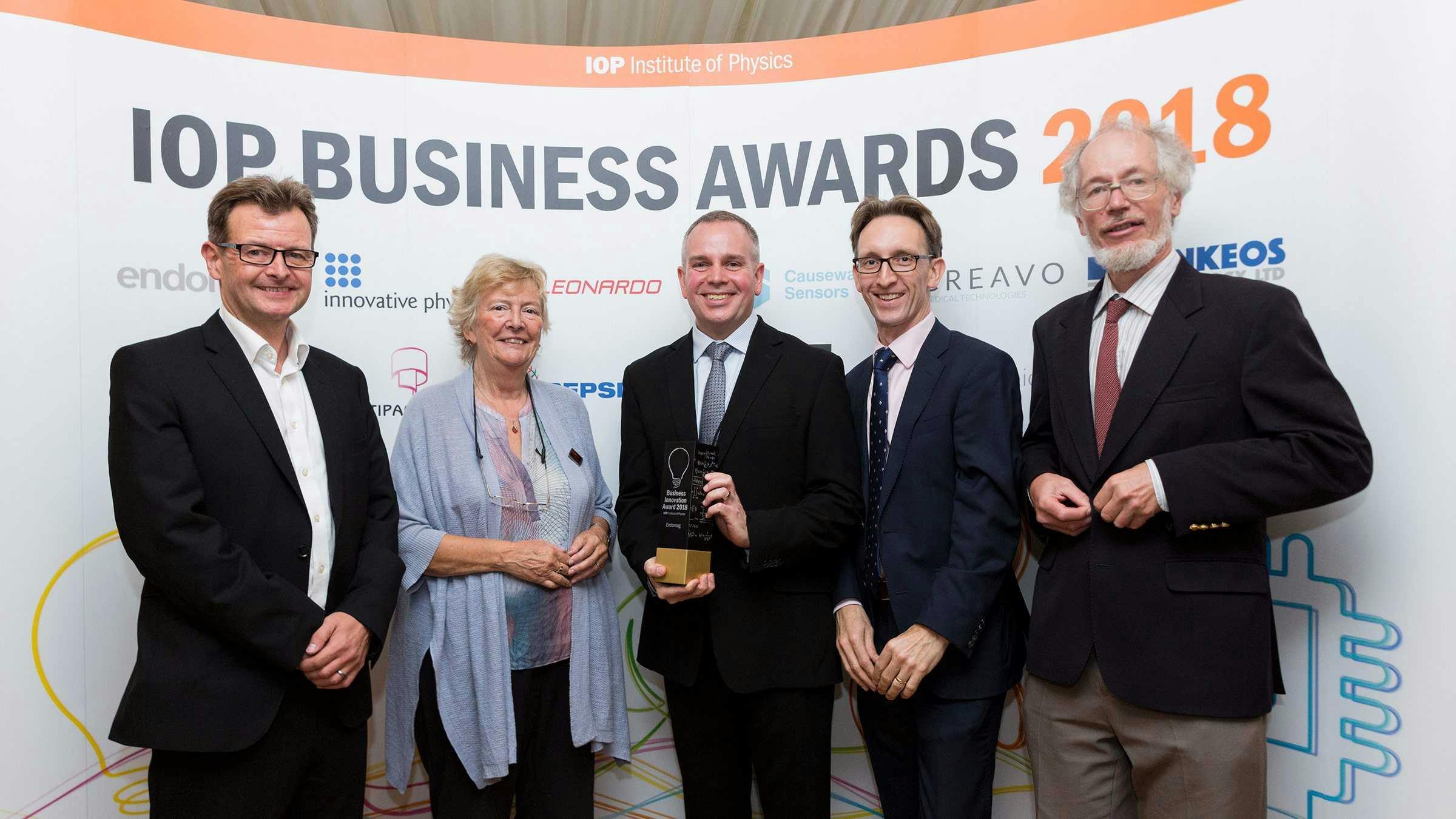 Endomag, the surgical guidance company, has won a prestigious British Business Innovation Award from the Institute of Physics (IOP), presented at the Houses of Parliament in London.
The IOP is the professional and learned society for physics in the UK and Ireland, encouraging innovation, growth and productivity in business. This award recognises Endomag's role at the cutting-edge of physics and business.
As one of only six winners receiving an IOP Business Innovation Award this year, the award celebrates Endomag's success in developing and delivering significant impact with a system that uses magnetism for minimally invasive surgical guidance, helping surgeons locate early-stage and impalpable tumours, predominantly in breast cancer surgery.
Through years of engineering development and a detailed understanding of the physics of magnetic sensing technology, Endomag's system eliminates the need for radioactive materials in surgery, making it a safer, more comfortable, convenient and efficient option over alternative techniques such as radiation or wire-guided excision biopsies.
Core to Endomag's innovation is the ultra-sensitive magnetic detection probe, Sentimag®, which first launched in 2013 and has been demonstrated to be as accurate as the current gold standards in numerous clinical trials.
The Sentimag® probe is used by hospitals in over 30 countries around the world in combination with the Company's innovative 'locating' and 'tracing' products, Magseed® and Magtrace®. These products help to guide surgeons to early-stage breast cancers, aim to maximise the amount of healthy tissue left behind and determine whether the cancer has spread.
Dr Eric Mayes, CEO at Endomag said: "Following on from the IOP Commended Innovation Award, which we received in 2016, it is a huge honour for our surgical guidance platform to be recognised for its innovative impact on oncology by the prestigious IOP. This Business Innovation Award for our novel use of magnetic sensing reflects our dedication to pushing cancer care forward and this award further demonstrates our ability to lead on innovation and develop products to improve surgical outcomes for everyone, everywhere."
The Business Innovation Award recognises and celebrates small, medium and large companies that have excelled in innovation, delivering significant economic and/or societal impact through the application of physics. Endomag was presented with the award by Professor Dame Julia Higgins on 16 October 2018.
Professor Dame Julia Higgins, IOP President said: "I am delighted that the IOP Business Awards are recognising and celebrating this year's winners tonight. These awards are the only awards in the country that recognise and reward companies that have built success on creative applications of physics.
"These awards shine a light on the potential of physics to produce cutting-edge technologies, to drive business innovation and growth and to stimulate far reaching social and economic change. But they also remind us that these benefits can only be sustained with continued investment and a healthy supply of physicists and other STEM trained people."
---